A Year in Riding
Toronto, Fitness ·

I remember about four years ago, I was hemming and hawing about some big ticket items I was considering purchasing. A new suit, since I only owned two, and one I got married in. A new set of skis, the Rossi Soul 7s. Or a new bike.

Mulley quickly pointed out I'd wear a suit once or twice a year, ski maybe five days a year (and can rent the latest at the hill), but the bike … I could ride the bike 2-3 times a week for 10 months of the year.

So in the Fall of 2017, I bought a marked-down Kona Jake gravel bike from Sweet Pete's bike shop.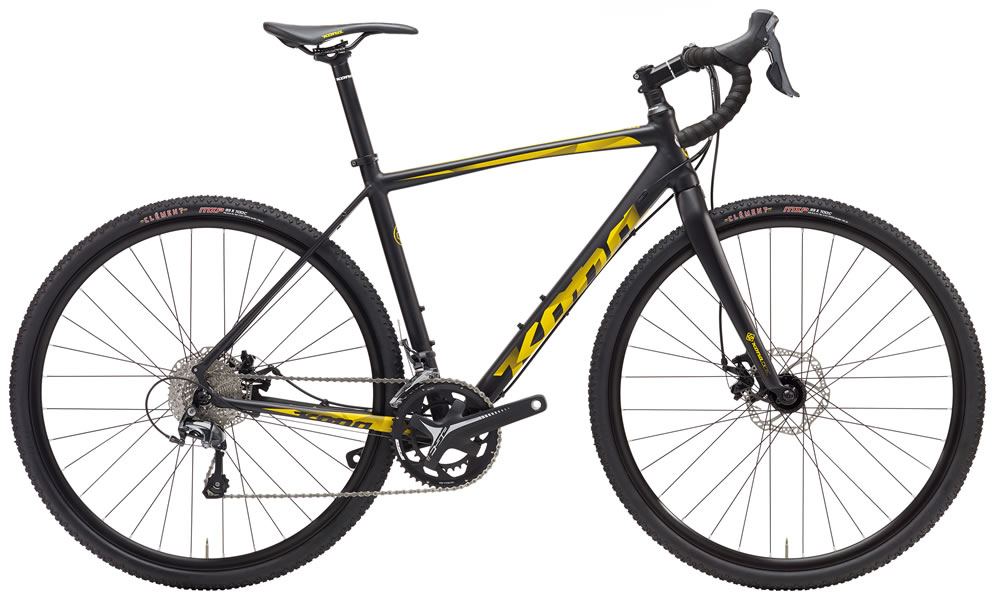 I absolutely love this bike. I've gone from struggling on 15km rides to 80kms in a few short years. My ultimate goal, which I keep falling short, is 100km.
2020 Summary
2020 turned out to be pretty similar to 2019. Rode throughout the year, lots of great rides with friends and coffee after, and a few new trails. I'm really lucky to get to ride with Mulley, Hatto, Mike, Sacha, and Rob (although Rob went bonkers with his new ride).
First ride
First ride was to the Shopify office at 620 King on January 2. It is quite concerning that I was able to start riding first work day of the year, since I don't ride in rain or snow. The route to and from work was pretty easy. Bike lanes most of the way once I hit the Prince Edward Viaduct. Now it would be even better as Danforth has a bike lane the whole way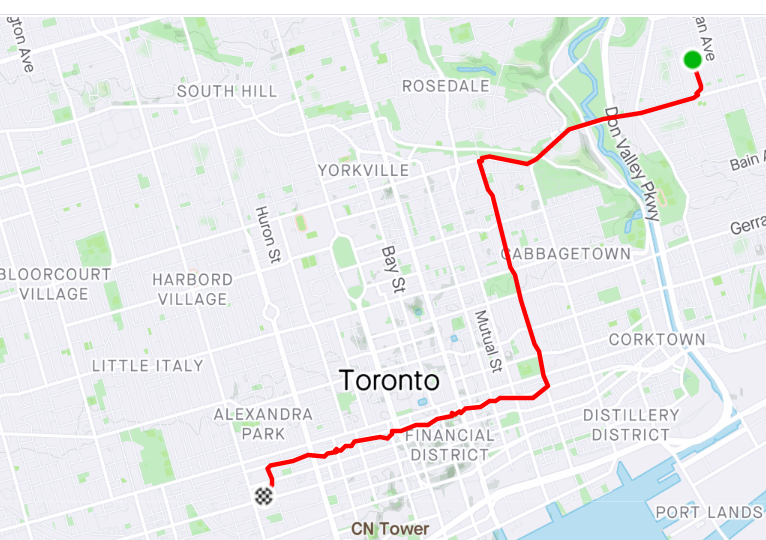 It's all pointless now, we're all remote WFH and I won't be riding to the office much.
The first real ride of the year was along our standard route. When I started, these 16 km felt brutal, especially coming up Woodbine hill.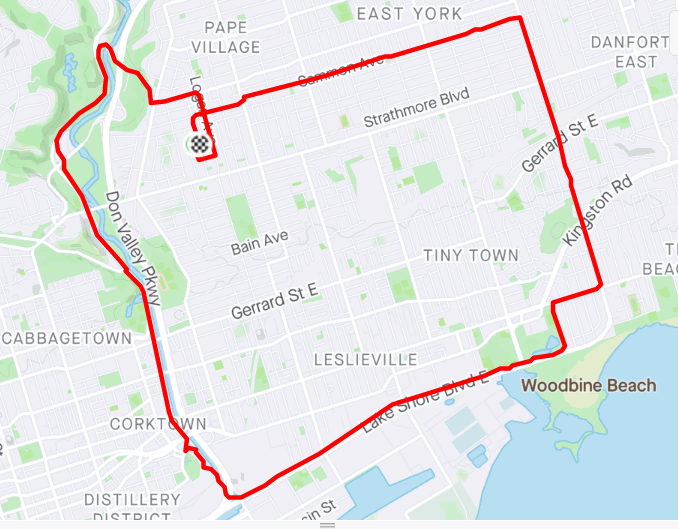 Now this feels like a warmup. Nice to see some progress
Last ride
The last ride (unless we manage to get some nice weather last week of December) was a solo rip up to York Mills and then around Taylor Creek. Again, there's something wrong with climate change if I can ride comfortably on November 28.
Longest ride
I keep planning to try a 100 km ride. Closest I've come is 80km, two years in a row. This year, the longest was 54 km up to Steeles Avenue.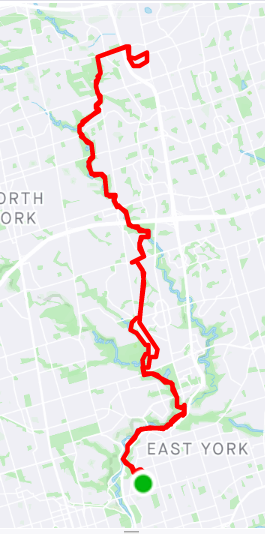 This was a fun ride with Mike and Sacha and didn't feel too bad.
We also did a 45km circle route around Toronto, which was not quite as good as our original 80km circle route.
New routes
I really liked that we tried some new (to us) routes this year.
The Spit
Yes, I'd never been to Tommy Thompson Park or out to the Spit. We did it a number of times this year, and it was always beautiful.
Beltines
Mulley introduced me to the Kay Gardiner Beltline. Great cinder trail from Mt. Pleasant all the way to the Allen.
What's so cool about riding is that I've started to see how all the parts of the city are connected.
Leaside Spur (Get Lucky with the Lights), back to Wilkets
My favourite new trail is the spur line off of Leslie street north of Eglington. In Strava, there are 4 segments
Leaside Spur
Rail Trail Lawrence
Old Railroad TT
New Law-Yo
That make up Get Lucky with the Lights. It's a fantastic mixed use trail that runs basically from Eglington to York Mills.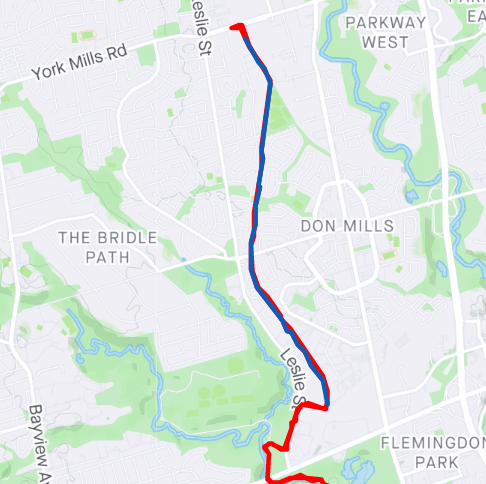 And on the way back, we usually cut out at Lawrence and go into Edward Gardens. From there we would drop into Wilkets Creek. That trail can be so fast if there are no walkers on it!
Overall, felt it was a pretty good year. Rode 1,293 km, 60 different rides.
Looking forward to 2021.