Riding Goals
Toronto, Fitness ·

I implied in A Year in Riding that I rode the bike a lot, because I managed approximately 1300 kms. It turns, that's not a lot for a reasonably good recreational rider. I ended up joining the #cycling channel in our work Slack, and some of those people are monsters on the bike.

I had two goals in terms of riding this year:
Break 2,000 km
A long ride of 100 km
So far, so good. I bought a Wahoo Core trainer and put it in my basement in front of the TV with the Zwift app on an Apple TV. This setup is fantastic for getting some miles on my legs when it was just too crappy outside. Up to this point, Zwift says I've done 960 km on the bike. Honestly I don't know if these count as "real" distances, because I somehow keep pretty high speed on these rides. But, I also feel far more knackered after the rides, so maybe it's a wash.
And even in the pandemic, I have managed to get out more, and on longer rides. To this point, Strava is telling me I'm at 1,750 km and we're not even at June. So I should be on-track to smash 2,000 km and can probably aim for 3,000 km. That will feel like an accomplishment.
My other major goal for this year (and it's been a goal since I started riding) was a 100 km long ride. It looked good that I could have done it with friends the weekend of May 15th, but I slept through the alarm! Rich, Hatto, and Sacha made it out to Oakville and back. I was on the bike at 10am that day and managed 75 km, and I even passed the group as they were coming back and I was heading out to Port Credit.
That just set me up to want to get my 100 km the next week.
Victoria Day was perfect weather, about 18º, sunny, perfect for riding. I just followed the same route and kept going. I managed the 100 km by myself over about 5 hours, and it felt pretty great to cross off a milestone.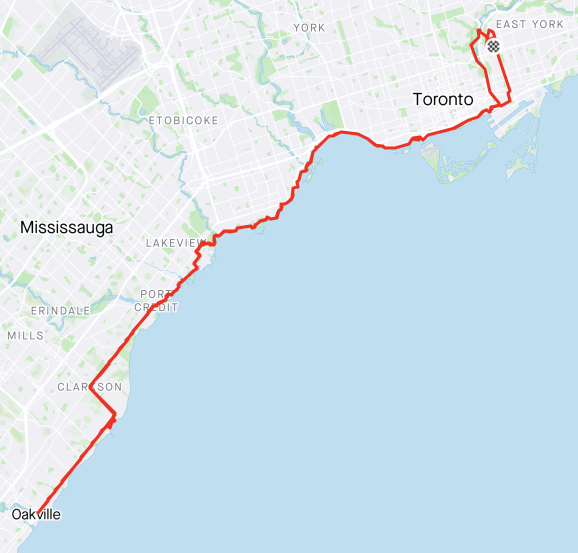 After a week, though, it actually doesn't feel like much. I've built it up in my mind to be this big accomplishment, or more accurately a big battle, but it really just now feels like another ride. Maybe this is what happens when you get better at a sport, you just want more?
Bottom line, it's looking like this year of riding is on track to be more successful than last year. Ride on!